Plastic-free paper cup opens up enormous market opportunities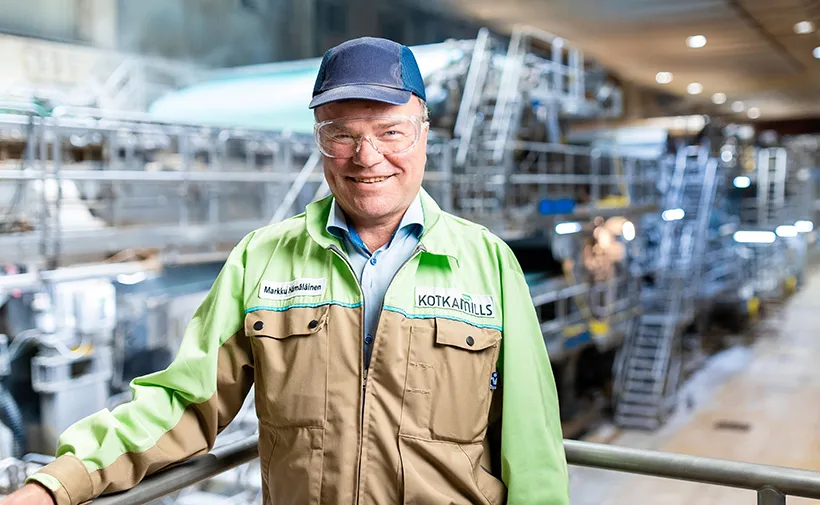 Investment and renewal are the most efficient means of boosting international growth in enterprises. However, decisions require the management to be bold, act at the right time and have the ability to see the growth potential in different markets. The Kotkamills forest industry integrate in Kotka was already on the verge of irreversible decline when it was bought by new owners who invested EUR 170 million in a cardboard machine. Finnvera's bond financing played a crucial role in this.
The ultimate goal of the Kotkamills machine investment is to achieve the position of market leader in manufacturing plastic-free cup cardboard.
Demand for plastic-free paper cups and other disposable dishes is growing explosively as the European Union's Single-Use Plastics Directive is about to enter into force in 2021. The size of the market will be billions of euros when the rest of the world follows Europe's lead.
"Already seven years ago, an older colleague said in the sauna how the consumption of cup cardboard will increase and explained how it can be manufactured without plastic. We were designing the machine for years and also did market research. However, a new product is always a big risk," says CEO Markku Hämäläinen.
According to him, they have tried to minimise risks by having the machine equipped for producing traditional consumer packaging board, too. In addition, the mill has a sawmill and a laminate paper machine. There is demand for all the products around the world.
The competitive advantage of Kotkamills's plastic-free cup cardboard is based on new production technology. The coating units integrated into the cardboard machine can add up to seven layers of coating to cardboard, which makes it possible to create a barrier layer that prevents the absorption of liquids.
"No one else has a fully equivalent product. The new machine is enormous for the market as its production capacity is 400,000 tonnes per year. The size of the European market is currently 250,000 tonnes but it will triple in three years," predicts Hämäläinen.
Challenges with the cash flow
Kotkamills's turnover was EUR 353 million last year and it has more than 500 employees in Kotka.
The first trial production runs of plastic-free cup cardboard were carried out already two years ago. The product was launched last summer. Turnover from sawn timber, laminate paper and traditional packaging board is extremely valuable for Kotkamills because it takes time to sell a new product to customers.
"The first two years were challenging for the cash flow. It is a big deal for a customer to change the food packaging board they use and it requires many approval procedures. Global companies do not take any risks," says Hämäläinen.
Another cash flow challenge is posed by payment terms. The raw materials purchased must be paid to the supplier in weeks but the end customer requires a 60-day payment term.
"We have been selling a lot of receivables," Hämäläinen sums up.
Bond offers SMEs more financing options
The Kotkamills mill was owned by the American investment fund Open Gate Capital until 2015.
Hämäläinen considered Kotka a good location for a new cardboard machine as the mill has enough space for the production line entity that is more than 200 metres long. Together with the other members of the management, he owns 10 per cent of Kotkamills. The main owner is the Finnish investment fund MB Funds Ltd.
According to the CEO, the providers of financing regarded the investment and the business acquisition as major risks, so the entire project was in danger of not being realised.
"Without Finnvera, everything would have been so much more difficult. Finnvera committed to a bond, which played a crucial role," comments Hämäläinen.
This was the first time that Finnvera used its mandate to grant bond financing to SMEs and midcap enterprises. The subscription took place in March 2015.
"

Finnvera committed to a bond, which played a crucial role," comments Kotkamills's Markku Hämäläinen.

"
From the point of view of Finnvera's Finance Manager Satu Savelainen, the investment made by Kotkamills was rational. As much as 90 per cent of the production goes to international markets.
"In line with our mission, we provided financing for an investment that increases exports and ensures that jobs remain in Finland. Our share was significant and crucial. Later, we withdrew from the project; we give room to private providers of financing, when necessary," says Savelainen.
A bond is a suitable option for major financing needs amounting to several millions of euros.
According to Finnvera's Head of Product Portfolio Management Mirva Salenius, if bonds became a more common option among SMEs, the financing offering available to them would become more versatile. In large corporates, bonds are used actively.
"Our maximum share of the implemented subscriptions is 50 per cent. In practice, we usually start with smaller shares, ranging from 20 to 30 per cent. Already then we are involved as an anchor subscriber," explains Salenius.
"Anchor investor" or "anchor subscriber" refers to a provider of financing that makes a major investment or grants a loan. At the same time, it attracts other providers of financing.
FACTS: What is bond financing?
Finnvera has the mandate to grant bond financing both to SMEs and larger enterprises. This means that Finnvera may act as a subscriber in this kind of issues.
Bond financing is intended for enterprises' general financing needs, such as investments, the expansion and development of operations and the organisation of the financing structure.
This kind of financing is best-suited for major financing needs amounting to several millions of euros.
How does a bond work? A group of lenders or investors subscribe to a bond issued by the company that needs a loan. The same terms and conditions apply to all creditors.
The cost of financing is usually slightly higher than in ordinary loans.
Finnvera's maximum share of the implemented subscriptions is 50 per cent. Typically, it is approximately 20–30 per cent. The subscriptions are at market price.