This is how we assess ES risks in export transactions
We assess all export guarantee applications to determine the level of environmental and social risks associated with the project. The scope of the risk assessment depends on the value of the transaction, the size of the project, project risks and on the type of the financing. As a rule, the risks associated with the entire project are assessed, even if Finnvera's export financing is granted only to a small component of the project, or to a delivery of individual equipment.
The main steps of the process are:
Screening
ES risk classification
Assessment
Financing decision and monitoring.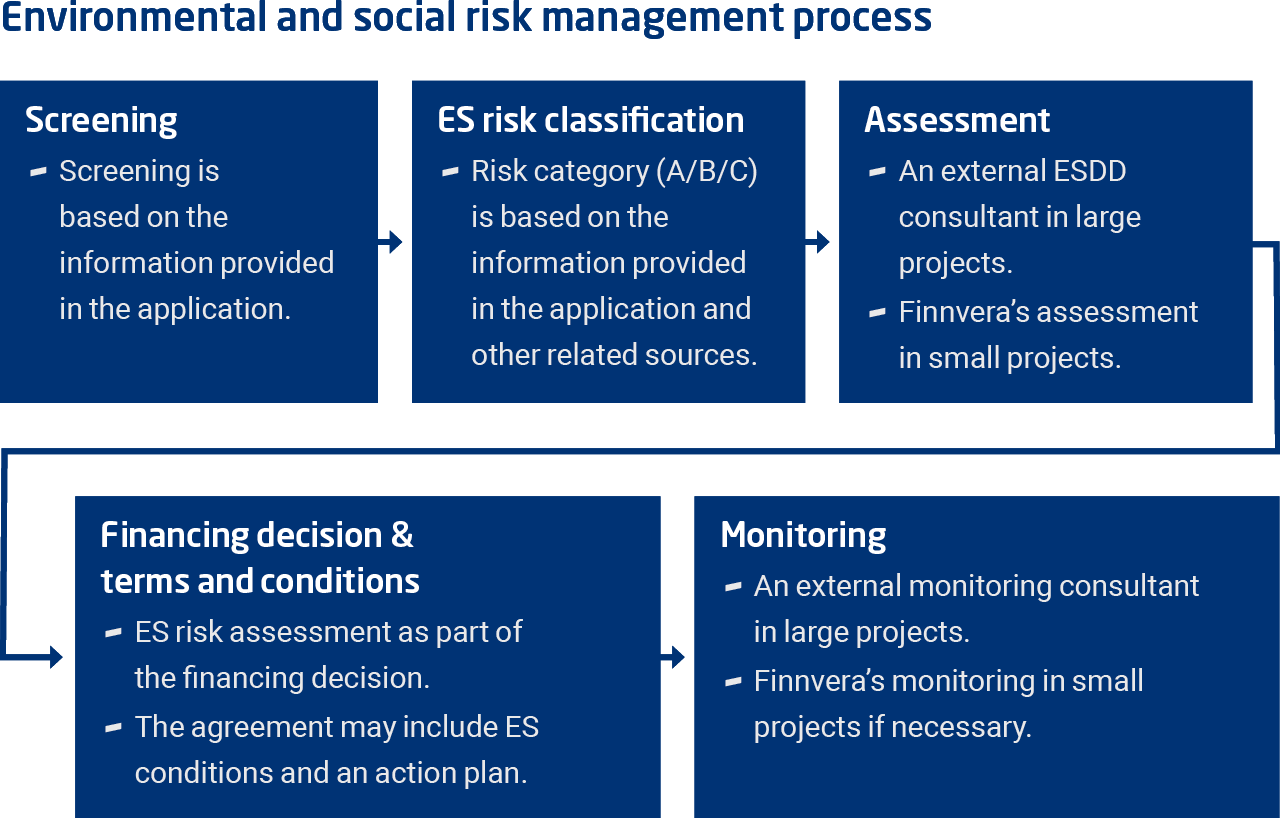 Published projects
Finnvera publishes an Environmental and Social Impact Assessment (ESIA) report on all category A projects at least 30 days before making its decision to participate in the project. 
In addition, in line with the OECD agreement, Finnvera publishes at least annually information on the A and B category projects to which it has committed during the year. The information to be published for Class A projects is the same as in the pre-publication case mentioned above, supplemented by more detailed information on export financing. In addition to projects subject to OECD publication requirements, Finnvera also strives to publish information on other projects, regardless of the ES risk category. A brief summary of the key environmental and social aspects of the projects is provided. The publication also covers information on the background material of the assessment and the international standards used, as well as the name of the Export Credit Agency's contact person. Publications are made with the consent of the parties.
Offers regarding projects in category A to report:
Name of project: CCI Parque Industrial Power Plant
Description of project: Installation of 22 dual fuel internal combustion engines with a capacity of 220,6 MW for the CCI Parque Industrial plant.
Location and country of project: San Luis Rio Colorado, Sonora, Mexico
Environmental and social classification: A
Information published: 16 January 2023
Source of environmental and/or social impact information: Manifestación de Impacto Ambiental (MIA), (Environmental Impact Assessment (EIA) Report), approved 1.3.2022 (PDF)
Name of project: Pulp Mill Project Paraguay
Description of project: An integrated greenfield sustainable pulp mill (the "Pulp Mill") located in the region of Concepción, Paraguay with an annual production capacity of at least 1.8 million metric tons ("MT") of bleached eucalyptus kraft (BEK) pulp (the "Product"), a long-term renewable eucalyptus plantation of over 185,000 hectares of owned forestland (the "Plantation") and infrastructure providing necessary support to the Pulp Mill and Plantation, including worker camps, a recovery boiler generating 220 MW of electric power, an on-site water treatment plant, a [35] km electric power transmission line, a chemical handling, preparation and storage area to meet the requirements of chemical supply to the Pulp Mill, an offloading port in Paraguay and a sea port in Uruguay (the "Ancillary Infrastructure" and, together with the Pulp Mill and the Plantation the "Project").
Location and country of project: Concepción, Paraguay
Environmental and social classification: A
Information published: 2 December 2022
Source of environmental and/or social impact information: https://paracel.com.py/en/environmental-impact-assessment/
Name of project: Araguaia Nickel Project
Description of project: Greenfield open pit nickel laterite mining and processing project
Location and country of project: Approximately 40 km northwest of the town of Conceição do Araguaia in the Pará State, northeast Brazil, and approximately 25 km west of the Araguaia River
Environmental and social classification: A
Information published: 3 June 2021
Source of environmental and/or social impact information: Araguaia Project Environmental and Social Impact Assessments
https://horizonteminerals.com/uk/en/environmental-impact-assessments/
https://horizonteminerals.com/news/2021-05-11_memorandum-pt.pdf (PDF)