Tiny Sri Lanka is having a facelift with Chinese money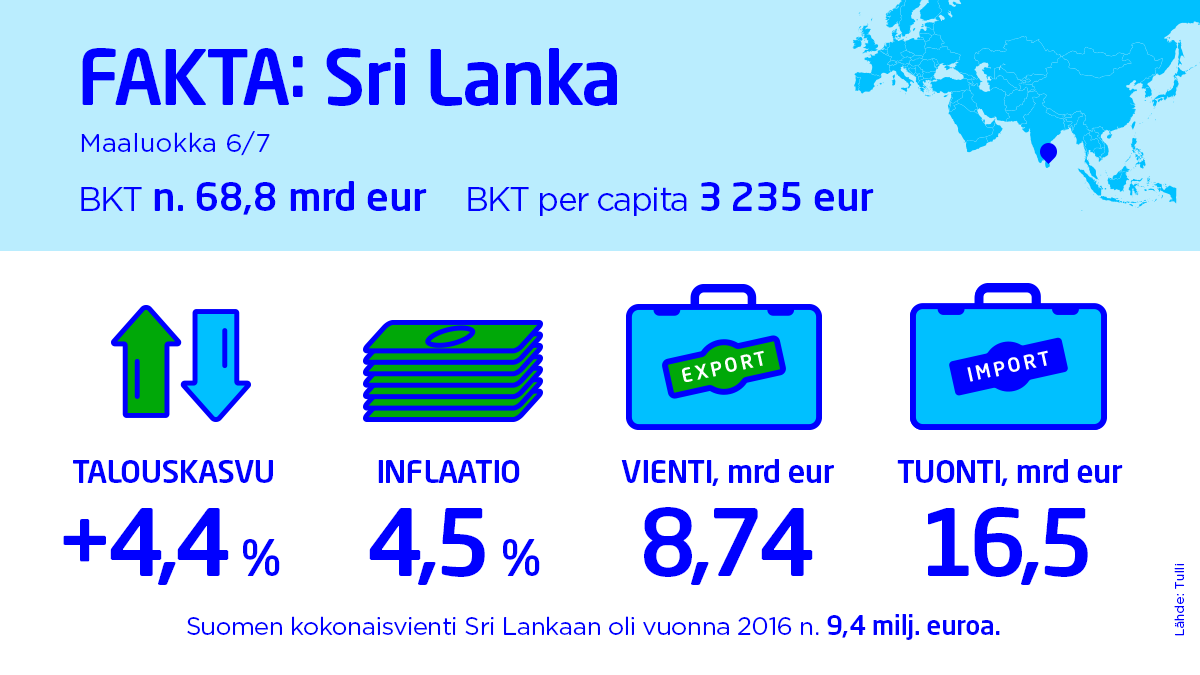 Sri Lanka, a relatively little-known country for Finnish companies, wants to become an important port of call for marine traffic. The impact of the Chinese Dream, the new Silk Road, reaches far and wide. A prime example of this is Sri Lanka, a miniature state currently seeing hundreds of millions of euros of Chinese money being invested in its ports and other infrastructure. Finnvera's CEO Pauli Heikkilä welcomed Prime Minister Ranil Wickremesinghe in October in Helsinki to discuss Finnish companies' export prospects to Sri Lanka.
The reason for the investment boom is the island's excellent location.
"Virtually all marine traffic in Asia goes past Sri Lanka, and now China hopes to make it an intermediary port for cargo ships", says Outi Homanen, senior adviser at Finnvera.
One of the marketing assets of Sri Lanka is the fact that it has signed free trade agreements with nearby countries. This makes it a convenient gateway to large markets, such as neighbouring India.
Right now, the island state is intensely interested in maritime infrastructure projects and especially maritime surveillance. But to carry out such projects, the help of Chinese companies is not enough. Finland's strength in this respect is its strong maritime cluster of more than 3,000 enterprises.
During Prime Minister Ranil Wickremesinghe's visit to Finland in October, a number of other topics were also raised for discussion. Homanen says that the Finnish health technology, energy sector, power plants, cleantech and education all featured in the discussions.
"It is worth noting that the Prime Minister visited Finland only and none of the other Nordic Countries. He found the offering of Finnish businesses particularly interesting."
Potential for Finnish exporters - Finnvera recommends export trade transactions to be secured
Sri Lanka's vast investments and important location have not yet drawn the attention of many Finnish enterprises. Statistics by the Customs Finland reveal that the total value of goods exports to Sri Lanka were just EUR 9.4 million in 2016, and even less in the first half of 2017.
For comparison, the value of goods exports by Finnish companies to neighbouring India totalled half a billion euros, and even for Pakistan, the figure was EUR 60 million.
"The operating environment in Sri Lanka is less complicated than in, say, Bangladesh or Pakistan. The country is agile and its production standards are better in fields such as the textile industry", Homanen says.
She would like to remind companies of the fact that the island state's virtual official language is English. Its British heritage is also visible in the banking system, which Homanen describes as reliable and practical.
Finnvera recommends export trade transactions to be secured with documentary credit, particularly in cases where the buyer is new. For Sri Lanka, it is also possible to consider, in individual cases, medium-term or long-term export financing guaranteed by Finnvera.
Financing for investments
In spite of Sri Lanka's dark history of a long civil war that left its marks everywhere, the country's new political leadership is ready to turn a new leaf.
The island state and its 20-plus million population wants to attract tourism and increase the exports of its textile industry. One of the most important export assets is tea.
According to Homanen, Sri Lanka's economy has grown at the rate of 5 to 8 per cent, although the figure has been below five in the last few years.
The economic growth has its flipside, too. By the World Bank's standards, Sri Lanka has entered the category of lower-middle-income countries, which means less concessional development funding.
However, Sri Lanka still has access to many partly concessional forms of funding. If you have a project involving Sri Lanka, one of your options is to apply for the Public Sector Investment Facility (PIF) for developing countries, a finance instrument managed by the Ministry for Foreign Affairs of Finland.
"One of the major risks in Sri Lanka is the growing of the state debt. While bold investing increases indebtedness, investments are also necessary for economic growth", Homanen says.
Read more on Finnvera's export credit guarantee operations
See all country classifications