Countries and markets 1/2022: Trade with Russia ended – could Central Asia be a substitute export market?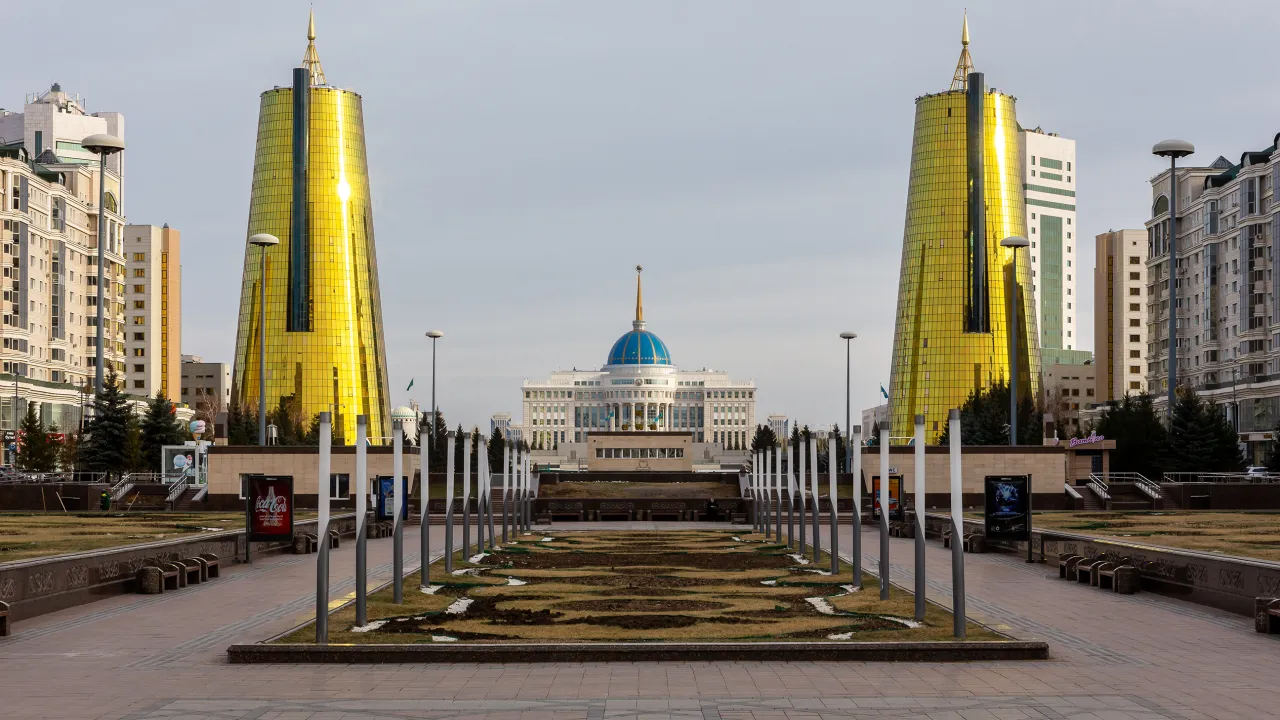 Western companies have exited in large numbers or are eagerly looking for a way out of the Russian market. Sanctions, counter-sanctions, a waning economy and a deteriorating operating environment have made it difficult to operate in Russia. For many the reason for the withdrawal has been the desire to show sympathy for Ukraine as well as the reputational risk of staying in Russia. At the latest, the interruption of payment transactions has led companies to look at other possibilities. Russian banks are subject to Western sanctions, and Western banks have to be particularly vigilant in the transmission of payments. Many Finnish companies are looking for alternative export markets, and Central Asian countries Kazakhstan and Uzbekistan have been featured as potential markets.
Finnvera's task is to support Finland's exports from Finland to markets also with political and commercial risks through financing. However, we stopped issuing export credit guarantees for Russian trade on 22 February 2022. That is, shortly before the Russian invasion of Ukraine, when the risk of escalation of the war increased significantly. At the OECD's Extraordinary Spring Country Classification Conference, Russia's rating was downgraded from moderate solvency class 4/7 to the lowest, i.e. very weak solvency class 7/7.
Finnvera does not grant guarantees to Ukraine either, as the risks are too great in a country at war. Discussions on refinancing of Ukraine have already taken place between the EU and international financial institutions and the Ministry of Foreign Affairs in Finland. There may also be opportunities for Finnish exporters in the reconstruction of the country.
Finnvera stopped granting guarantees to Belarus already a year ago after the country's actions, the falsification of the presidential election, the crushing of peaceful demonstrations and the forced landing of an aircraft, led to new sanctions in the EU.
Kazakhstan as an alternative market to Russia?
Kazakhstan, with a population of 19 million, has been considered the most stable state in Central Asia. Therefore, the demonstrations that turned violent in January 2022 came as a surprise. The people took to the streets to protest the rise in fuel prices. Dissatisfaction with the property accumulation of the family of former president Nursultan Nazarbayev in a situation where part of the population is living in poverty had also burned beneath the surface. Russian "peacekeeping forces" were asked for help. One consequence of the protests was that president Kassym-Zhomart Tokayev finally ousted Nazabayev from power. It was also surprising that Russian troops left Kazakhstan.
The pressure on reform in the Kazakh economy
Kazakhstan needs to diversify its economy, hydrocarbon accounting for almost half of exports. Under the leadership of president Tokayev, a roadmap has been drawn up from privatization and reduction of dependence on fossil fuels. Kazakhstan has also been plagued by the resource curse: If a country's economy is dependent on energy exports, economic reforms will often fail. When the price of oil goes up, reforms are not necessary and when the price goes down, reforms cannot be afforded.
Kazakhstan's economic recovery from the damage caused by the COVID-19 corona pandemic has been fueled by a sharp rise in energy prices. According to the International Monetary Fund (IMF), Kazakhstan's GDP contracted by 2.5% in 2020 and grew by 4% in 2021. The forecast for this year is 2.3%. The administration has announced its goal of achieving sustainable economic growth through a diversification strategy that includes e.g. reducing the role of the state in the economy, developing the private sector and improving governance. Kazakhstan aims to achieve carbon neutrality by 2060.
Opportunities for Finnish companies in green transition, energy efficiency and agricultural development and education exports
Finnish companies have been interested in the Kazakh market, but exports have remained low. However, some of the Finnish companies operating in Russia have exported to Central Asia via Russia, which is not reflected in Finland's export statistics. According to the Finnish Embassy in Nur-Sultan, there have been many contacts from companies during the spring. The potential is seen in particular in the green transition and the development of energy efficiency. Agricultural development is also on the agenda. There is a demand for education exports, especially for polytechnics. Kazakhstan is seen as an interesting partner. However, competition is fierce, and personal relationships are important. No deals are made by e-mail. Of the European companies, Germans and French are specificly active, as are the Turks.
Kazakhstan hopes for more foreign investment, especially from the West, as it wants to avoid excessive dependence on China or Russia. The country has natural resources which could be processed with the Finnish know-how and technology.
There are still challenges in the operating environment. Bureaucracy and corruption in state institutions remain a fact, although intervention has taken place during the current presidency.
Is there a danger that Russian sanctions could be circumvented through Kazakhstan? Local authorities have confirmed that they control the border traffic between Kazakhstan and Russia and the export of about 7,000 sanctioned products. The incentive is that Kazakhstan, for its part, will not be subject to sanctions.
Local authorities have confirmed that they control the border traffic between Kazakhstan and Russia and the export of about 7,000 sanctioned products.
Finnvera's policy
Finnvera grants guarantees for Kazakhstan's exports on a case-by-case basis. Kazakhstan has an OECD rating of 5/7 (sufficient solvency)
Uzbekistan has opened up and its economy has been reformed
Uzbekistan has become a more attractive market under the current president, Shavkat Mirzijoves. He came to power in 2016 after the death of authoritarian president Karimov. Uzbekistan is the most populous region in Central Asia, with a population of about 33 million. The country has opened up and economic reforms have taken place.
The economy of Uzbekistan
The Uzbek economy survived the pandemic reasonably well. GDP grew by 1.9% in 2020, 7.4% in 2021 and the forecast for this year is 3.4%. One reason was the high price of gold, which allowed the authorities to take action to mitigate the social and economic impact of the pandemic.
Just as it seemed that Uzbekistan has moved past the acute phase of the pandemic, the war in Ukraine and the sanctions imposed on Russia have brought new uncertainty and weighed on the prospects for Uzbekistan. Russia is Uzbekistan's main trading partner and has funded, for example, the mining and energy sectors. Remittances from Uzbek migrant workers from Russia have been an important part of the economy. However, Uzbekistan does not want Russia's influence to grow too much - for example, it did not recognize the independence of the separatist states in eastern Ukraine. High energy and food prices are also having a knock-on effect on Uzbekistan.
Slower growth in other major trading partners, such as China, Kazakhstan and Turkey, may also have a detrimental effect.
The operating environment has improved - the use of child and forced labor in the country has ended
Under president Mirzijoves, ambitious economic and administrative reforms have not only been a matter of thought, but concrete reforms have been made. The pandemic slowed privatization and energy reforms, but progress has been made in areas such as agriculture and governance. The introduction of an open e-procurement platform with information on the real owners of companies will reduce the potential for corruption.
One of Uzbekistan's main export articles is cotton, and the country has long been burdened by the reputation of a human rights violator. International clothing chains have boycotted Uzbek cotton over the use of child and forced labor. According to a report published by the International Labor Organization (ILO) in 2020, the use of child and forced labor has ended. Cotton collectors are being paid, protective equipment is provided and processes are being modernized.
Opportunities for Finnish companies in, for example, water, renewable energy and waste management
Russia and China are also struggling in the Uzbek market. However, reliable partners are being sought in the West and the market has not yet been redivided. Possibilities include solutions for water and renewable energy, as well as waste management. Education exports and digitalisation are Finnish strengths. Paper and board have traditionally been exported from Finland to Uzbekistan.
Russia and China are also struggling in the Uzbek market. However, reliable partners are being sought in the West and the market has not yet been redivivided.
Finnvera's policy In Uzbekistan
Finnvera grants guarantees for Uzbek exports on a case-by-case basis. Uzbekistan OECD country classification 5/7 (sufficient solvency).
Exports to other Central Asian countries restricted
Demand for guarantees in Kyrgyzstan, Tajikistan and Turkmenistan has been low. Finnvera's land policy is very limited. We may grant short-term warranties on a case-by-case basis.
Team Finland helps companies further
The Finnish missions are working for the international success of Finnish companies. Missions help companies connect, provide market information and support in resolving market access issues. The missions are a part of Team Finland cooperation, along with Finnvera, Business Finland, Finnpartnership and Finnfund.
Finnvera supports Finnish exports by granting guarantees to exporters and financier banks. Competition in the Central Asian market is fierce, as elsewhere. Financing is a competitive advantage in trade negotiations, a good product does not always sell itself.
Finnvera's country policies and contact persons can be found on the country risk classification map. 
Read also: 
Countries and markets 3/2021: Finland aims to accelerate exports to Africa - Nigeria, South Africa and Ethiopia are potential markets when the corona pandemic and crises alleviate
Countries and markets 2/2021: Is trade with Russia and Belarus still possible? | Finnvera