Valmet supplies equipment to a textile recycling plant in Sweden covered with Finnvera's guarantee
Valmet will deliver equipment for Renewcell's new textile recycling plant to be built in Sundsvall, Sweden.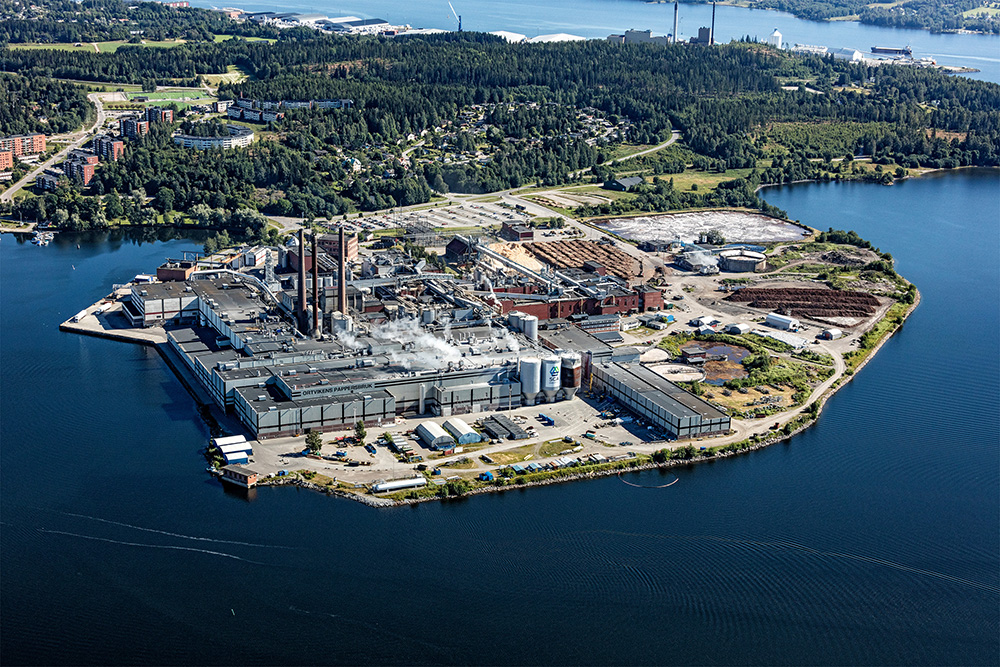 Valmet will deliver equipment for Renewcell's new textile recycling plant to be built in Sundsvall, Sweden. The plant will recycle 60,000 tonnes of textile fiber per year with a possibility to increase the capacity in the future.
Through its patented process, Renewcell is able to upcycle cellulosic textile waste, such as cotton and viscose clothes, transforming it into a dissolving pulp product called Circulose® that can be further used to produce raw material for new clothes. This is Renewcell's first commercial scale textile recycling plant and it is scheduled to begin operations in the first half of 2022. In 2018 Renewcell opened a demonstration plant in Kristinehamn, Sweden.
Valmet will supply process equipment for the plant and is able to utilize its pulp and paper industry refined technology to a new kind of textile fiber production.
"Sustainable textile recycling is well aligned with Valmet's mission of converting renewable resources into sustainable results. This Renewcell project is an excellent example how pulp and paper technology can be utilized in this new application. This project will be an important reference within this new growing business area. We look forward to a successful project execution and continued cooperation with Renewcell," says Bertel Karlstedt, President, Pulp and Energy business line, Valmet.
"Fashion's terrible impact on climate and environment will only increase unless circular materials like Circulose® are adopted in large scale. With a trusted supplier like Valmet providing the core equipment, we reduce project risk and gain a committed partner with industry-leading expertise. We look forward to working closely with Valmet to put together a top-of-the-line textile recycling plant concept that is ready to be rolled out not just at Ortviken but worldwide," comments Patrik Lundström, CEO at Renewcell.
Finnvera has granted a buyer credit guarantee for an approximately EUR 51 million (SEK 520 million) loan. The lenders are Nordea and the Swedish Export Credit Corporation (SEK). Due to the start-up nature of the project, the financing arrangement was implemented as a project financing.
"Textile recycling and sustainable fashion are becoming more and more valued in the everyday lives of consumers. From Finnvera's point of view, this was an interesting financing project that will have a positive impact on the environment as the recycling and further use of textiles becomes more efficient. The financing of pulp mills is a significant part of Finnvera's financing operations, but dissolving pulp is a newer product for Finnvera," says Cecilia Saarnia, Senior Adviser of Finnvera.
The new industrial activity replaces the old one
The plant is also an excellent example of an industrial shift that creates growth for new industries.
The plant will be built at Ortviken industrial site in Sundsvall, replacing a closed paper mill, creating new activities and jobs there.
"We are proud to be able to support new, innovative application of Finnish pulp technology and hope to see similar sustainability and circularity driven projects more in the future," comments Cecilia Saarnia.
Name of the Guarantee Holder: Nordea Bank Abp, filial i Sverige
Name of the Exporter: Valmet Technologies Oy and Valmet AB
Name of the Lender: Nordea Bank Abp and Aktiebolaget Svensk Exportkredit (publ.)
Name of the Buyer and Borrower: Re:NewCell AB
Export transaction/Goods: Equipment and thereto related services for a textile recycling plant
Country of Export transaction/project: Sweden
Credit amount: about SEK 520 million
Credit period: 1,5 + 8,5 years
Environmental and social classification: B
Environmental and social impact information (in B):
The project has positive environmental impacts. The project promotes a circular economy and replaces the virgin use of natural resources. Main items of the environmental and social review were related to the raw material supply chain and its social impacts
Contact point: [email protected]
Date of publish: 14.7.2021