Financing for exports of services requires creative solutions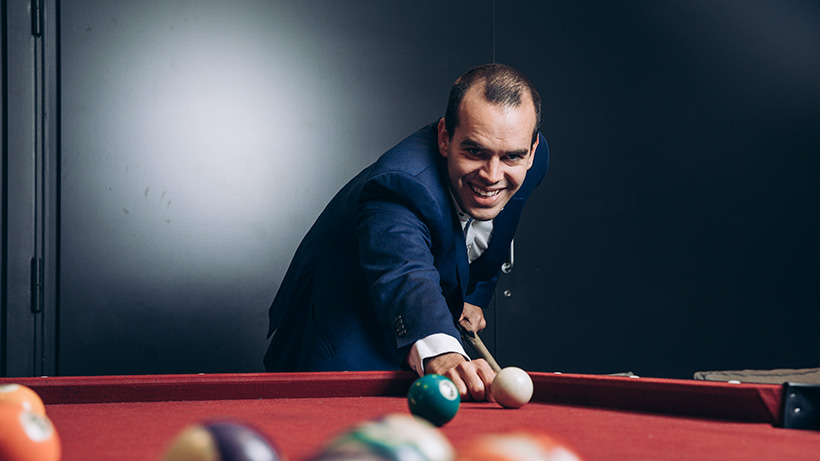 Finnvera's support enabled us to take risks abroad, says Roope Heinilä, CEO of Smarp.
It has long been predicted that services will save Finland's exports. Services related to information technology, in particular, are growing rapidly and account for over 40 per cent of all exports of services, which total nearly EUR 18 billion year 2015.The only security that a company providing services generally has is its cash flow.
According to Finnvera's experts, exports of services require much more creative financing solutions than traditional exports of goods.
- Often a company incurs costs before it has even started to produce the service. While an exporter of goods can use, for instance, machines and equipment as collateral, the only security in exports of services is often the company's cash flow, says Finance Manager Jani Tuominen of Finnvera.
This is a vital difference when negotiating for financing.
- In exports of services, we concentrate on earnings and business logic. Attention is paid, among other things, to the agreements that the company makes and the type of cash flow it has, Tuominen continues.
When exporting goods, it is often simpler to find a solution for financing.
- When goods are exported, we can usually look at the company's history. The company's financial statements and key indicators reveal how it has exported similar products before. With an exporter of services, we cannot necessarily see the same from the periodic key figures, Ilkka Soininen, Finance Manager responsible for the exports of goods at Finnnvera, explains.
A vacillating line
The rise in exports of services does not show all that clearly in Finnvera's statistics because, increasingly often, exports of services are included in exports of goods. Finnvera always tailors financing solutions to suit each individual enterprise, which means that the security for exporting goods and the security for exporting services do not necessarily differ from each other.
- At present, the services exported are really diverse, as many companies engaged in traditional trading in goods also sell services. For instance, companies in the machine and equipment industry sell maintenance for the equipment, Tuominen says.
In his view, the rise in exports of services is due in part to the economic situation. In addition, the market has changed, and more and more services are sold.
- Exporters of services usually need a steady presence on site in the buyer's country. This is especially true for large markets, such as the United States, where many service companies wish to gain a foothold. Singapore, the modern hotspot for business in Asia, also attracts exporters of services.
Growth by taking risks
Smarp, a software company specialised in employee communication, has been exporting its services for over four years. Finnvera's support has played an important role for this service company since its inception as a start-up.
- Financing has enabled us to take risks, and without risk we wouldn't have been able to grow, says Roope Heinilä, CEO of Smarp.
Smarp has now over 50 employees.
According to Heinilä, Smarp has entered international markets by establishing its own offices, by distributing through local partners and by selling their product directly from Finland. Exports have required help, especially when the company has founded offices abroad.
Aside from Helsinki, Smarp has now a foothold in Stockholm, London and New York. Next, the company will look to Asia.
- Above all, exports must be considered according to the target country. As an exporter, we want to be available on site when the goal is to meet potential customers face-to-face. For example, on the Indonesian market this has not been sensible so far, but in the UK it is vital.
FACT: Export financing
Finnvera has a wide selection of alternatives for loans, domestic guarantees and export credit guarantees, which can be used to assemble a suitable financing solution for the exporter. Finding a suitable financing solution always depends on each individual case.
Loans. Short-term loans are often appropriate financing solutions for exporters or services and goods. For instance, the Internationalisation Loan is intended for financing a Finnish SME's business abroad.
Domestic guarantees. Guarantees granted by Finnvera can be used as security for loans received from banks and other providers of financing, as well as for other contingent liabilities. For instance, by means of an Export Guarantee, an exporter can acquire pre-delivery or post-delivery financing for working capital from a bank. Finnvera can guarantee, for example, accounts with overdraft facility, limits, and accounts with bank guarantee.
Export credit guarantees. A Letter of Credit Guarantee protects a confirming bank against commercial or political risks associated with a confirmed letter of credit, whereas a Bill of Exchange Guarantee is best suited for transactions valued at less than EUR 2 million. The Export Receivables Guarantee is intended for short-term exports. It can be used by exporters to insure their receivables from a foreign buyer against credit losses.
Text: Pi Mäkilä