Executive Vice President's review: A year marked by contrasts, a changing operating environment and new projects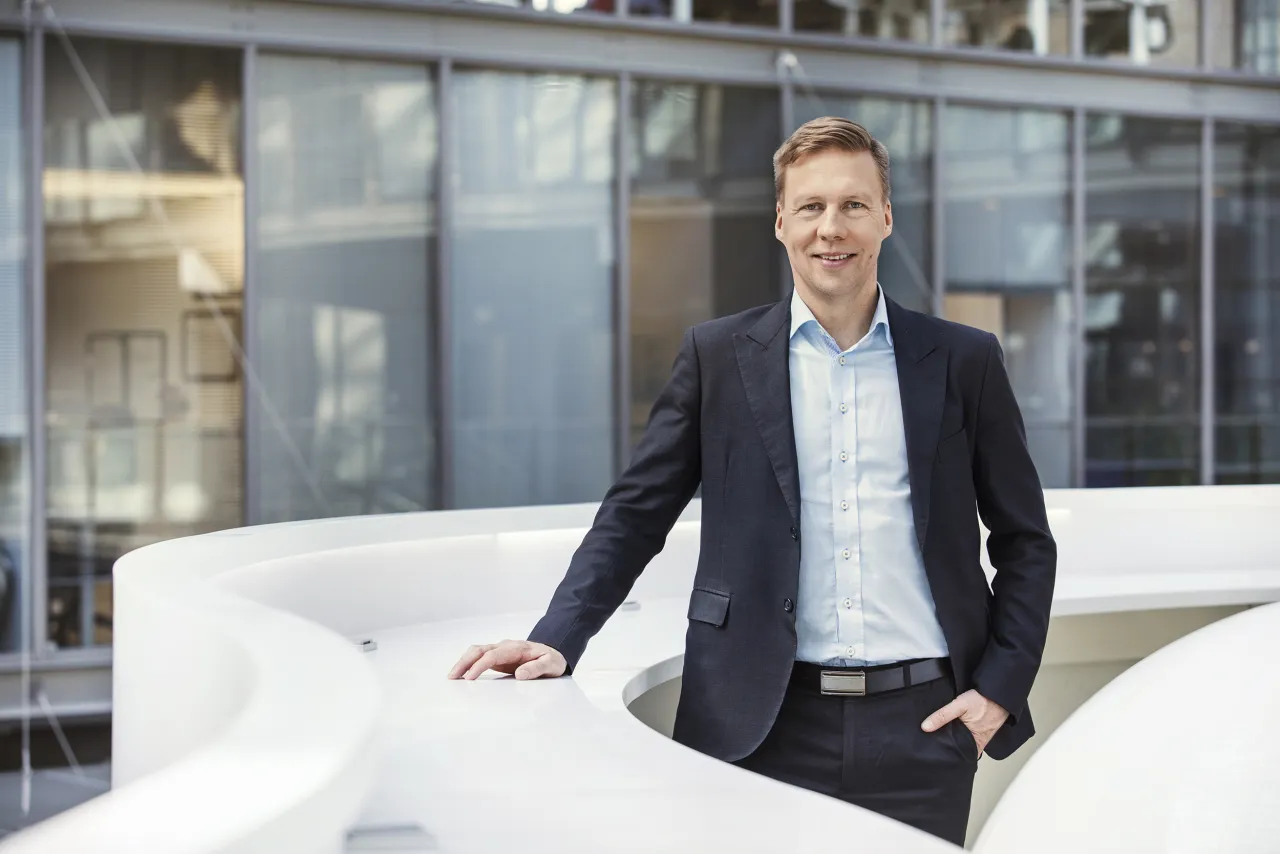 As uncertainty increases, export credit agencies typically assume a larger role in export financing. The demand for financing remained stable in 2022, and we were able to back Finnish companies' exports. Exports are highly important for the Finnish economy.
What was 2022 like from the perspective of export financing?
The year was marked by major contrasts. The demand for financing was stable, the post-cyclical nature of Finnish industry was clearly visible, and long-term projects sustained the operations through the economic cycle. On the other hand, the coronavirus pandemic and Russia's attack on Ukraine had an impact on Finnvera's outstanding commitments. We stopped granting export credit guarantees to Russia in February and the Russian export market, which previously had been quite important for Finland, practically ceased to exist. This had concrete impacts on Finnish exporters. Companies have been quite successful in finding substitute markets, however, and in our experience Russia's invasion has not made it necessary to cancel major projects.
Which were the biggest successes and challenges of the year?
The challenges and successes were strongly linked. The pandemic was not yet completely over, and its aftermath was manifested differently in various sectors. The impacts of the war launched by Russia, especially on companies operating in the Russian market, emerged as a new challenge. On a positive note, companies managed to find new markets to replace trade with Russia.
What I regard as our greatest success is the fact that we continued to operate steadily in challenging circumstances: we provided guarantees for a considerable amount of financing for new export projects, and we were able to significantly reduce our outstanding commitments relating to trade with Russia. We also made use of the European Investment Bank's EGF facility to finance large corporates' working capital needs.
We hope that the green transition will create demand for Finnish technology expertise and that we will have opportunities to get involved in those projects.
What is the outlook for 2023 like?
We expect overall demand to remain at similar levels as in 2022. The financial market is likely to remain rather challenging, and the general forecast is that we are slipping towards a recession. In the financing situation, this will be manifested in different ways in various sectors. We hope that the green transition will create demand for Finnish technology expertise and that we will have opportunities to get involved in those projects. Geographically, a tougher financial situation will typically have an impact especially on emerging markets. An export credit agency traditionally plays an important role in financing projects in emerging markets.
How is corporate responsibility visible in Finnvera's business?
Corporate responsibility is becoming increasingly visible as transparency. For the second time, Finnvera reports on carbon dioxide emissions from financial liabilities related to ships in keeping with the Poseidon Principles initiative. Considering the scale of ship financing, this calculation provides us with valuable information on the climate impacts of our financing, as well as the impacts of shipping as an industry. It also supports Finnvera in monitoring the impacts of our operations.
Finnvera is party to many international commitments, and we also wish to influence sustainable development policies, not only as a company but also through international forums. Finland is committed to the E3F Coalition, and as part of it we limited the granting of export credit guarantees to oil and gas projects. In 2021 we already reviewed our sectoral policies, and will no longer participate in financing new coal-fired power plants or the infrastructure related to them or peat power plant projects abroad.
Sector policies are one way to allocate financing sustainably. I find it also important to encourage companies to engage in projects that promote the green transition. As a State-owned export credit agency Finnvera has good opportunities to promote climate change mitigation: we finance new investments and technologies. We believe that through financing we will promote the transition to better and lower-emission solutions.
Jussi Haarasilta
Executive Vice President, Large Corprates business