Finnvera's year 2019
Welcome to Finnvera Group's annual report 2019. On this page you will find a summary of the year's highlights, key figures and our PDF reports.
Finnvera – at the core of financing
By providing financing, we influence the competitiveness of Finnish enterprises – their opportunities to operate and grow in Finland and to enter international markets. Our task is to supplement the financial services offered by banks and other providers of financing. We finance various stages of business with loans, guarantees and export credit guarantees.
How Finnvera creates value
Finnvera Group's operations are described in the value creation model which provides information about the company's most significant resources, business model and strategic foundation, and describes the key impacts of the company's operations on the surrounding society.
Vision
Finnvera improves and diversifies financing opportunities available for Finnish enterprises by offering loans, guarantees and export credit financing. As a State-owned company, Finnvera supplements the financial markets and with its operations, promotes the development of enterprises and exports.
 
Our vision is:
OUR CLIENTS' SUCCESS STRENGTHENS THE FINNISH ECONOMY.

Strategy
Business
The exposure defined in the Act of the State's Export Credit Guarantees includes current total exposure and half of offers given at the closing date's exhange rate. The exposure according to the Act on the State's Export Credit Guarantees was EUR 20.8 billion at the end of 2019. The total exposure arising from export credit guarantees and special guarantees includes current commitments and offers given at the reporting date's exchange rate.
86%
Of the SME and midcap financing as a whole 86% was targeted at start-ups, companies seeking growth, internationalisation or change and transfers of ownership.
Financing for SMEs and midcap enterprises
990 MEUR
(943)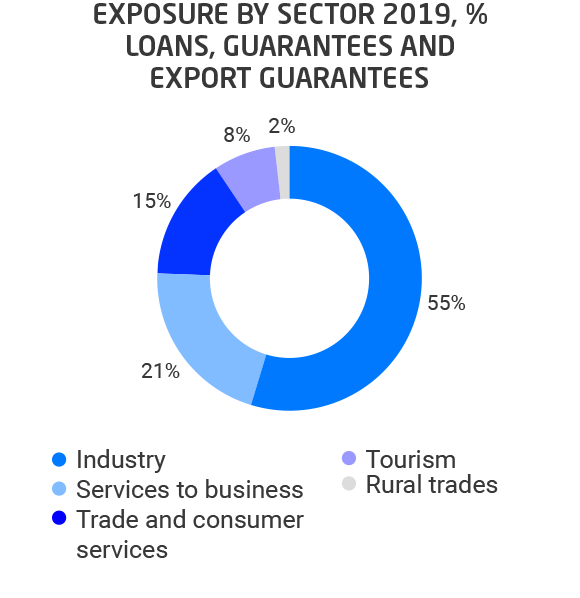 EUR 3.7 bn
Finnvera's drawn cruise shipping exposure amounts to EUR 3.7 billion.
Export credit guarantees and special guarantees granted
EUR 5.2 bn
(3,0)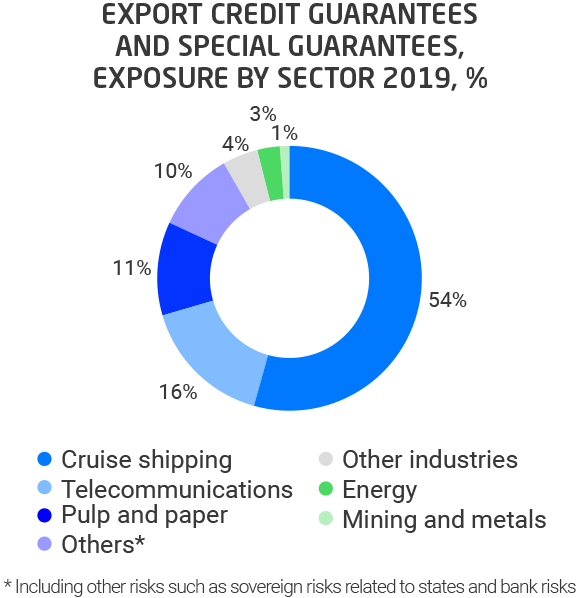 24,500
At the end of 2019, our clients numbered 24,500. 88% of these customers were micro-enterprises, 11% other SMEs and midcap enterprises and 1% large corporates.
Finnvera Group's balance sheet totalled
EUR 12.7 bn
(11,0)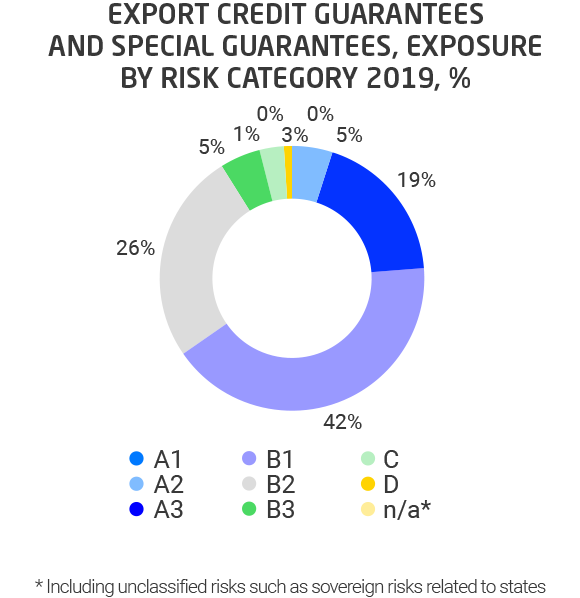 PDF reports
Download the reports describing Finnvera's year 2019 as PDF files.