A 1,200 tn Goliath gantry crane to Turku

The enormous Meyer Turku shipyard crane delivered by Konecranes will be ready for use in May 2018. The company's first Goliath shipyard crane was delivered more than 40 years ago and, as it happens, it was also delivered to Turku.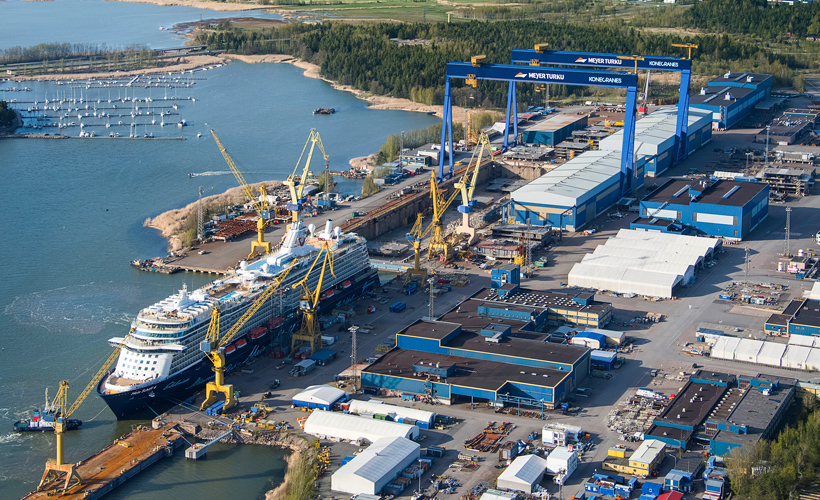 "You simply cannot pass up these changes. This transaction is one of the most significant for us," says Matti Malminen, Vice President, Trade & Export Finance, Trade Compliance at Konecranes.
The maximum height of the crane is 120 metres and its hoisting capacity is 1,200 tonnes. There is an interesting fact related to the welding stage: the shipyard that ordered the crane has operated as a subcontractor for Konecranes in welding the main support beam.
"All critical components come from Konecranes' plants in Finland. The gearbox, electric systems and hoisting machinery are the heart of the crane," explains Project Engineer Vesa Pietilä.
He has been involved in the crane project for nearly four years. The actual delivery time is two years.
According to Pietilä and Malminen, a competent subcontracting network is the key to success for both Konecranes and the entire shipyard. The chain is extensive and quality and delivery reliability are required from subcontractors.
"We have invested heavily in the subcontractor network and want it to function smoothly. Companies are trained and monitored," notes Malminen.
The value of the shipyard deal for Konecranes is EUR 35 million, only a fraction of the listed company's revenue that exceeds EUR 3 billion.
International transactions amounting to tens of millions of euros often require financing arrangements. The so-called "Lex Jordan" gave Finnvera the opportunity to issue guarantees for domestic projects, too, provided that they promote Finnish exports. The crane delivery to Turku Shipyard is a good example of this.
"Finnvera and SEB Leasing Oy arranged the financing. As we speak, we have four other major export trade transactions in progress, in which buyer credit or Finnvera's export credit guarantees play a significant role in securing the orders," says Malminen.
Article in our newsroom: An extensive network enables shipbuilding
Exporter/Supplier: Konecranes Plc
Lender: SEB-Leasing Ltd
Guarantee holder: SEB-Leasing Ltd
Buyer and Borrower: Meyer Turku Ltd
Export transaction/goods: 1200 tn Goliath gantry crane
Country of transaction: Finland
Credit amount: EUR 26,6 million
Guaranteed amount: EUR 13,3 million
Credit period: 8 years
Finnvera cover: 50 %
Information published: 15 September 2017